Exterior Painting Services In West Bend, WI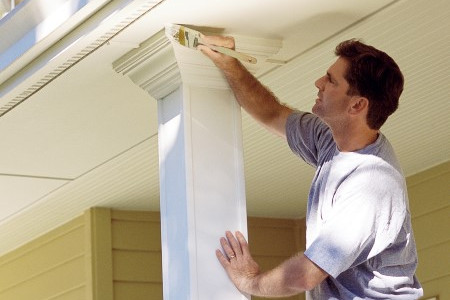 The exteriors of your home or office endure more wear and tear than any other painted surfaces. Exterior painted surfaces have to withstand the harsh weather and UV rays, as well as build up of harsh contaminates from pollution. By having a quality West Bend exterior paint job, it can reduce energy bills and make maintenance much easier.
When you hire Golden Rule Painting, you can rest assured that our West Bend exterior painters will give you a high-quality exterior paint job will survive the hot summers and cold winters without blistering, cracking, or peeling. Our professional West Bend Exterior Painters prepare the surface of your home to ensure the best paint adhesion. Contaminants such as dirt, mold and mildew, car exhaust, and loose dirt can affect the quality of the exterior painting job! It will also properly seal your home or office's interior from moisture, mildew, dry rot, termites, and other damaging environmental factors.
Save your time and do not tackle a big, daunting exterior painting project on your own. Let the expert West Bend Exterior Painting Contractors at Golden Rule Painting handle it for you. Call today for your free quote and consultation today.
Exterior Painting Demonstration
Our West Bend Exterior Painting Includes These Detailed Services
House Painting
Exterior Home Painting
Outdoor Painting
Siding Painting
Stucco Painting
Brick Painting
Exterior Trim Painting
Exterior Wall Painting
Shed Painting
Why West Bend Homeowners Should Hire Us For Their Exterior Painting
Our professional Exterior Painting team is bonded, licensed and insured. They carry liability insurance and worker's compensation coverage. We also are a certified Sherwin Williams preferred Exterior Painting company.
As a West Bend, WI professional Exterior Painting contractor we can provide you with all types of Exterior Painting services like indoor, outdoor, residential and commercial Exterior Painting to name just a few. Golden Rule Painting will make sure your belongings are protected and your family is safe as we complete your Exterior Painting project. Let us do the work; there is no need to get your hands dirty!
Latest Exterior Painting Projects