Exterior Staining Services In West Bend, WI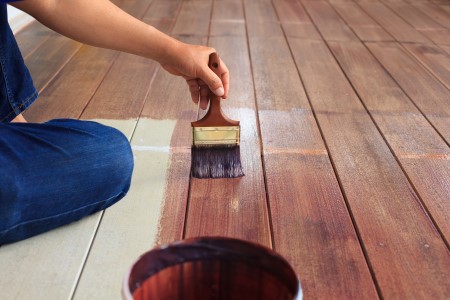 Any West Bend deck or fence requires proper maintenance to resist the outside elements. A good quality stain and sealer should be applied to your deck and fence for extra protection. Exterior wood staining and finishing by Golden Rule Painting will give you peace of mind and help you avoid costly wood repairs in the future.
As homeowners, we ask our decks to put up with a lot. In constant war with the elements, our decks endure the worst. By maintaining it with a quality deck stain, you will have the peace of mind knowing that costly repairs aren't looming on the horizon.
Water is a deck's worst nightmare. Without proper deck staining, we run the risk of the wood planks becoming rotten, covered in mildew, warping, and cracking. The list doesn't end there, either. From cracking to nail pop, the longer we neglect our deck, the more it becomes not only unsightly but dangerous.
Our West Bend Exterior Staining Company has the best solution to continue to seal out the moisture that is responsible for all of the damage to wooden decks and fences. Exterior Deck and Fence staining is a wonderful way to enhance and protect your exterior wood surfaces.
Our West Bend Exterior Staining Includes These Detailed Services
Deck Staining
Fence Staining
Wood Staining
Patio Staining
Porch Staining
Wood Furniture Staining
Wooden Deck Staining
Concrete Staining
Paver Stone Staining
Why West Bend Homeowners Should Hire Us For Their Exterior Staining
Our professional Exterior Staining team is bonded, licensed, and insured. They carry liability insurance and worker's compensation coverage. We also are a certified Sherwin Williams preferred Exterior Staining company.
As a West Bend, WI professional Exterior Staining contractor, we can provide you with all types of Exterior Staining services like indoor, outdoor, residential and commercial Exterior Staining, to name just a few. Golden Rule Painting will make sure your belongings are protected, and your family is safe as we complete your Exterior Staining project. Let us do the work; there is no need to get your hands dirty!
Latest Exterior Staining Projects