West Bend, WI Pressure Washing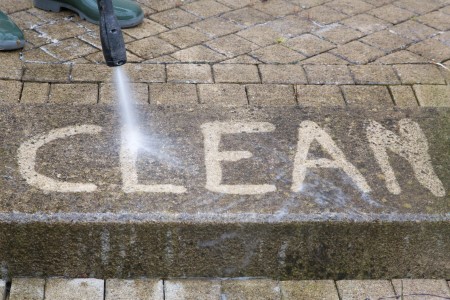 If your home is beginning to show its age with black stains on its exterior then you may not have to get a fresh coat of paint applied to its surface. Before you decide to repaint your home, consider having your home's exterior serviced by a pressure washing professional. The professional painters and pressure washing specialists at Golden Rule Painting can get the outside of your home looking like brand new with only one visit.
The stains on your home may not be just grime but organisms such as mold, mildew, and algae that is feeding on moisture and the organic components of your home. Failing to remove these organisms can result in hastening the deterioration of your home's exterior, while doing so can return luster to your home's exterior.
However, pressure washing is not the end-all solution for cleaning the outside of your home. There are plenty of times when you are still going to need to apply a new coat of paint. This does not mean that you should not get the exterior of your home pressure washed, however. Pressure washing has actually become an important component of the house painting process.
The Importance Of Pressure Washing
When you are getting the exterior of your home repainted, you need to see about getting the pressure washing services of a professional like those at Golden Rule Painting. Pressure washing is an important part of the painting preparation process that needs to be performed before you have a fresh coat of paint applied. By pressure washing your home you remove contaminants from its exterior that might otherwise keep your new paint job from adhering properly.
The growth of mold and mildew on your home creates an organic barrier between your home's surface and your new coat of paint. You want your paint to go on smooth, not just end up slapped over what is already there. This will result in a rough uneven look and your paint may not adhere well, eventually chipping or peeling off where the mold had once been.
Similarly, you need grime from oil removed from your home's exterior before applying paint as well. These kinds of stains are especially harmful to new paint jobs. When you paint over oil or grease stains the paint cannot properly take hold, as it is unable to grip the surface. Many painting contractors will fail to remove the barrier created by oil stains before they set to work, which reduces the lifespan of your paint job considerably.
Why You Want Our Pressure Washing Service
Our painting and pressure washing contractors want to make certain that you are satisfied with our work, and that we provide you with a beautiful coat of paint that will look great for years. Once the grime has been removed from your home's exterior and we have it properly prepped for painting, our high quality paint will be applied with care and precision. We are not content with slapping on a new coat of paint and calling it a day, we conduct our work with honesty and integrity, and provide quality service that we believe in. When you need the very best in home painting services, contact the experienced contractors at Golden Rule Painting, LLC today.
Latest Pressure Washing Projects