Cabinet Refinishing Services In West Bend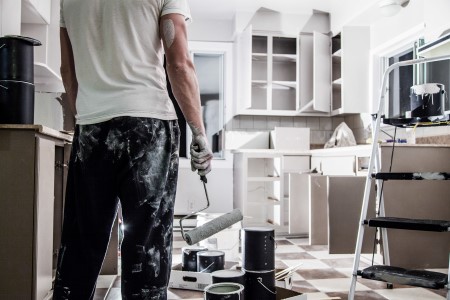 The cabinets in your kitchen play an immense role in defining the look and feel of the living space. If your cabinets are old, damaged, and unsightly, it is hard for you and your family to enjoy the area to the utmost. One way that you can dramatically improve the aesthetics of your kitchen is by refinishing your cabinetry. At Golden Rule Painting, our West Bend cabinet refinishing contractors can help you with every aspect of this project.
Our West bend painting contractors are honored by the fact that so many local families and businesses trust us with all their painting, staining, and refinishing needs. We understand the importance of your property. In every project that we undertake, our goal is to honor the trust that our customers show in us by treating our efforts as if we are performing them on our own home or business. During your cabinet refinishing project, we will bring this mindset and dedication to excellence to task for you.
Call Golden Rule Painting today if you are interested in refinishing the cabinets in your West Bend home. Our courteous and polite staff would be happy to take your call and to assist you in any way that we can. We can schedule your appointment today.
What Is Cabinet Refinishing
Cabinet refinishing is the cost-effective alternative to replacing existing cabinetry. Wood cabinets are an exceptionally durable fixture. Over years of use, the exterior of wood cabinets can degrade, but the structure of the cabinets remains intact. Instead of replacing your cabinets, our team can sand away old paint and stain in order to repair damage to your cabinets. Our professionals can then repaint or restain your cabinets for you. In the end, they will look brand new for far less than to cost of replacing all of your cabinetry.
Expert Assistance During Your Cabinet Refinishing Project
At Golden Rule Painting, our West Bend contractors are the best team to hire to help you with your cabinet refinishing project. Because we are highly skilled painters who repair and stain wood regularly, we have the knowledge, skill, and experience to beautify your cabinetry to the utmost. With our help and guidance, you can achieve any aesthetic goals that you have in mind for your cabinets.
Our professionals can turn painted cabinets into well-stained and naturally beautiful ones. Likewise, we can turn a distressed wooden cabinet into a vibrantly painted feature of your kitchen. In all of our services, our team will completely customize our efforts to your unique goals. In this way, we can guarantee your complete satisfaction with the results of your cabinet refinishing project.
Why West Bend Homeowners Should Hire Us For Their Interior Painting
Our professional Interior Painting team is bonded, licensed, and insured. They carry liability insurance and worker's compensation coverage. We also are a certified Sherwin Williams preferred Interior Painting company.
As a West Bend, WI professional Interior Painting contractor, we can provide you with all types of Interior Painting services like indoor, outdoor, residential and commercial Interior painting, to name just a few. Golden Rule Painting will make sure your belongings are protected, and your family is safe as we complete your Interior Painting project. Let us do the work; there is no need to get your hands dirty!
Latest Cabinet Refinishing Projects
If you need to hire a professional painting contractor who specializes in cabinet refinishing services in West Bend, call Golden Rule Painting today at 262-353-5907 or complete our online request form.