Importance Of Pressure Washing For Fall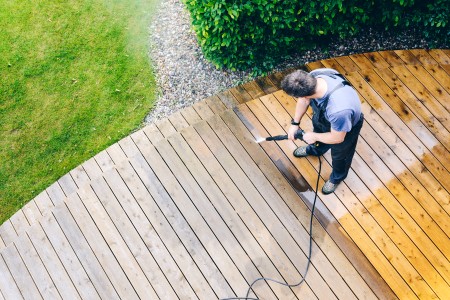 As another summer in West Bend comes to an end, the time comes to start thinking about winterizing your home. Fall becomes the perfect time to take care of exterior tasks that should be dealt with, after the summer heat has passed and before the peak of winter settles in. A lot of these chores are the type that can be taken care of with pressure washing, as long as handled by an industry expert.
There are plenty of errands for you to do to prepare once you realize winter is coming, and quicker than you think. However, some of these jobs are best left to industry experts and that includes pressure washing. While the local branch of your big box home improvement store may try to convince you that renting a power washer is a good idea, you will not be happy with the final results.
Either you will be unable to get as thorough a job done as you hoped, or you could end up injured. There is a special grade of washer meant only to be used by trained and licensed experts, get a hold of this and you could hurt yourself. Or try to use a low-grade one and it won't do more than move dirt from one side of your driveway to the other.
Getting The Job Done
So you are aware that you need certain tasks taken care of before the cold weather moves in, but what? Keep in mind, we get that winter weather sooner than many other parts of the country, so it means preparing early. Some of the most important tasks are best addressed by professionals for the best in pressure washing.
So what needs to be pressure washed prior to the end of autumn?
Your deck needs a thorough power washing. This is especially true if you are planning on weatherproofing your deck before the cold air moves in. However, either way, pressure washing will remove debris and organic matter, so that it will be already clean once spring beings. Plus, debris that collect during summer and fall tend to leave stains, especially if left through the winter snow and freeze.
Of course your gutters are a big one. Washing out your gutters will remove the built up matter and debris that has collected. Aside from unsightly, full gutters become a hassle in fall and winter. It can clog, cause spillover on your siding or result in trapped water becoming frozen. Any of this can damage your gutters or even your roof and siding.
This is also the ideal time to get the outside of your windows power washed. Spring, summer and even fall are notorious for leaving dirt, dust and debris, such as pollen, sticking to your windows. Although it may not pose a threat, it detracts from the curb appeal making your windows look unkempt.
While you are at it, make it a point to get your driveway cleaned. Removing rubbish, even organic matter, from the drive means less material to get frozen to the ground to become trip and fall hazards. Do not take a gamble when it comes to the safety of yourself and your loved ones.
Getting The Professional Service You Need
Locals here know that Golden Rule Painting is the best name to trust for services like pressure washing. We take this line of work seriously and are dedicated to ensuring the total customer satisfaction of every client we work with. Our job is to provide you with quality work for tasks like power washing, but our goal is to do so in a manner that ensures you are happy with the completed work.
Let us help you and your family prepare for another spell of cold weather in West Bend, by addressing the house cleaning aspect of winterizing. We look forward to working with you and making certain that you get the tasks you need completed, as well as the results that you deserve. Don't wait too long or winter will be sneaking up on you quicker than you expect.