Exterior Repaint In Brookfield, WI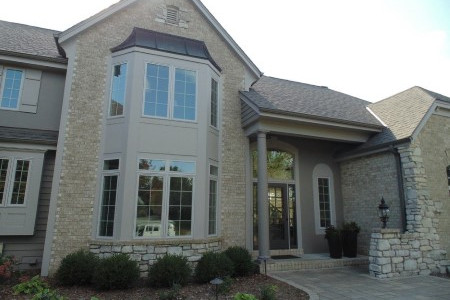 Here the customer wanted to change colors and update the home for a more modern look. First, we pressure washed the exterior. Then, we did some scraping, light sanding and caulking. Next, we spray painted 2 coats, back brushing the first coat, of Hallman Lindsay's Weatherguard paints on all the siding. Then, we painted the trim 1-2 coats with Hallman Lindsay's Weatherguard paints. The home turned out great and the customer was very happy!
Your Brookfield Complete Service Painting Contractor
When considering a repainting for your Brookfield home, it's best to find a painting contractor that can handle every detail. While some companies only specialize in a few areas, Golden Rule Painting can handle any job in its entirety. Contact us to learn more.
Project Type: Exterior Repaint
Products Used: Hallman Lindsay Weatherguard Paints
Exterior Repaint Gallery
If you are looking for an expert Brookfield, WI Exterior Repaint with Color Change contractor, then please call 262-353-5907 or complete our online request form.