Exterior Repaint In Grafton, WI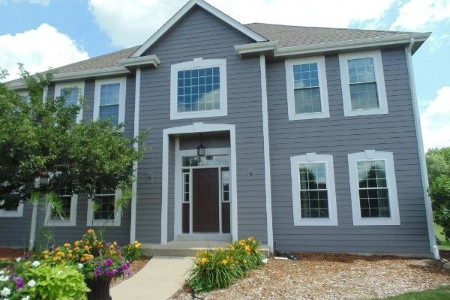 Here the customer needed the exterior of their home repainted and wanted to change colors. First, we pressure washed the entire exterior. Next, we did some priming and re-caulking. Then, we spray painted 2 coats on the siding and soffits, back brushing the first coat with Hallman Lindsay Weatherguard Satin Sheen Paints. Next, we brush and rolled 1-2 coats on all the trim with Hallman Lindsay Weatherguard Low Sheen Paints. Finally, we painted the front door and sidelights the accent color 3 coats. The customer was very happy and everything turned out very well!
Professional West Bend Painting Contractors
If you live in the West Bend area and are looking to hire the absolute best painting contractor available, we encourage you to give us a try. Our professionalism is apparent in any project we take on and won't go unnoticed.
Grafton Exterior Repaint & Color Change - Gallery