Exterior Repaint In Nashotah, WI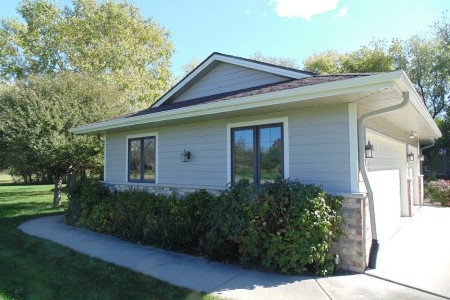 Here the customer wanted to clean up the outside and change colors. First, we pressure washed the entire outside of the home, including the deck. We treated the house with Jomax Mildewacide plus Bleach and stripped and brightened the deck with ABR Fast Finish Remover and Weathered Wood Restorer. Then, we did some scraping, priming and caulking. Next, we spray painted 2 coats, back brushing the first coat on all the siding and soffits with Hallman Lindsay's Weatherguard Satin Sheen Paints. Then, we brushed and rolled 2 coats on all the trim with Hallman Lindsay's Weatherguard Low Sheen Paints. The home turned out beautiful and the customer was thrilled!
Your Nashotah Complete Service Painting Contractor
When considering a repainting for your Nashotah home, it's best to find a painting contractor that can handle every detail. While some companies only specialize in a few areas, Golden Rule Painting can handle any job in its entirety. Contact us to learn more.
Project Type: Exterior Repaint
Products Used: Hallman Lindsay Weatherguard Paints
Exterior Repaint Gallery