Interior Painting Of A Fireplace Surround In Menomonee Falls, WI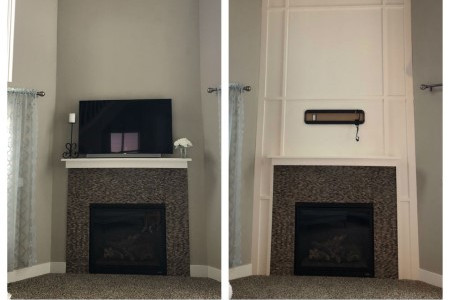 Here the customer wanted to break up the large space surrounding their living room fireplace. They had a carpenter install a smooth mdf board and 1'' by 2'' frame work around the fireplace to the ceiling. We filled the nail holes and caulked it to fill all gaps. Then it had some light sanding and a primer coat applied. After the primer dried, the surround was light sanded and wiped with a tack cloth to insure a smooth finish. Last, two coats of Hallman Lindsay Duratech Satin Paints were applied.
Our trusted Menomonee Falls painters at Golden Rule Painting recently finished this interior painting job in Menomonee Falls, WI.
Interior Painting in Menomonee Falls, WI
Type: Residential Painting
Smart Primer and Hallman Lindsay Duratech Satin Paints
Interior Painting of a Fireplace Surround