Stucco Home Exterior Painting In Wallace Lake, WI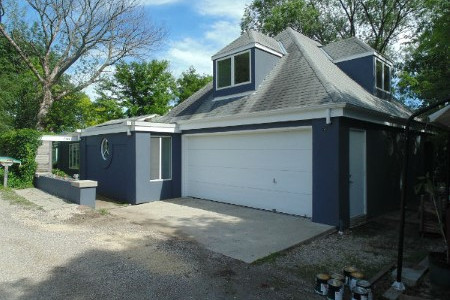 Here the customer wanted to do a repaint and change some colors on a very interesting home. The stucco started out pretty natural but had a lot of dirt and mildew. We washed the home entirely, then we primed and caulked a few areas. Next, we spray painted and back rolled the whole home 2 coats with the blue/gray color Hallman Lindsay Weatherguard Low Sheen Paints. Then we repainted the white trim and we painted the burgundy/red railings to black. The customer was very happy.
When you hire Golden Rule Painting, you can rest assured that our West Bend exterior painters will give you the high quality exterior paint job you're looking for.
Project Type: Exterior Painting
Products Used: Hallman Lindsay Weatherguard Low Sheen Paints
Exterior Painting Gallery